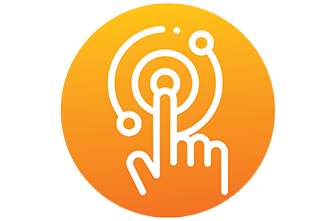 ---
---
Tip Sheets Available in Workday
Simply log in to Workday (workday.miami.edu), click on the orange Need Help? icon*, and either select the Tip Sheet category or start typing in the search field. See the images below for reference:
Important: Tip sheets and tutorials have been removed from the Workday informational website as of August 31, 2020. Tip sheets continue to be accessible within Workday.
*If you don't see the Need Help? icon within Workday, you'll need to install the WalkMe plugin on your computer. (Please find additional details below.)
---
WalkMe Smart Walk-Thrus
WalkMe Smart Walk-Thrus are interactive, navigational guides within Workday that explain Workday business processes (BPs) in an intuitive manner. These interactive guides initially complement existing tip sheets and, eventually, will replace them.
In order to use WalkMe, you'll need a plugin for your computer:
CLICK HERE TO INSTALL THE PLUGIN
If you have a centrally-managed PC, WalkMe for Workday was installed automatically.
If your PC is not centrally-managed, you have a Mac, or you would like to install the plugin yourself, please click here.
If you need help with this process, please contact the IT Service Desk at: 305-284-6565 or help@miami.edu.
Once the plugin is installed, a WalkMe icon will be visible next to your browser's address bar, and an orange Need Help? icon on your Workday home page will open a drop-down menu of the available guides. See the image below for reference:

---
WalkMe ActionBot
The WalkMe ActionBot understands what people want to do within the Workday system—and automates tasks for them!
The WalkMe ActionBot actually helps you complete an action within the Workday system by asking you a series of questions and then using your responses to autofill fields in the business process you selected.
The ActionBot can help you complete the following Workday business processes: Complete Vaccination Compliance, Change My Home Contact Information, Initiate Change Order, Cell Phone Allowance, Request One-Time Payment, and Update Payment Elections.
To get help completing any of the business processes mentioned above, just click the ActionBot to get started!
CLICK HERE TO INSTALL THE PLUGIN
How to Use the WalkMe ActionBot:
Once the WalkMe plug-in is installed, a WalkMe ActionBot icon will be visible on the Workday home page. Just click on the ActionBot to get started. See the image below for reference: